We know the Arts informs everything we do—everyday.
Seriously.
Explore and see how.
The GTA is the most diverse and vibrant art scene in Canada.
This is because ALL of us—many of us volunteers—keep the art scene going. We give our time, our art, and our passion to this. This is purely and truly a 'labour of love.' We know the value of words and images.
Check out our Events Page right here.
The Artis Events page showcases over 100 Lit Events, with lit-erally at least one event every night of the week in GTA.
We know that art is our cultural voice.
The Artis exists because of you. And this incredible art scene that IS the GTA exists because of YOU.
Let's keep the scene growing, because art is our cultural voice. Without art, we, as a people, become silenced.
We need not say more. Join us and become a part of this amazing scene.
aired its 21st episode and celebrated one year on June 28th 2019 with American immigration advocate and poet JEANNINE PITAS on her brand new collection Things Seen and Unseen, Catholicism, spirituality, women in government, and more.
Watch right here and be sure to visit ThatChannel.com
The Artis with Ivy Reiss is taking a break for the summer and will launch into our second season in September 2019.
Check out all The Artis episodes here, on ThatChannel.com and Youtube
Please subscribe to our new Youtube channel: The Artis Media Network and find videos from The Artis launch and more.
American Hispanic Immigration Rights Advocate, Poet, and Educator
Jeannine Pitas
on The Artis with Ivy Reiss
Download the free podcast here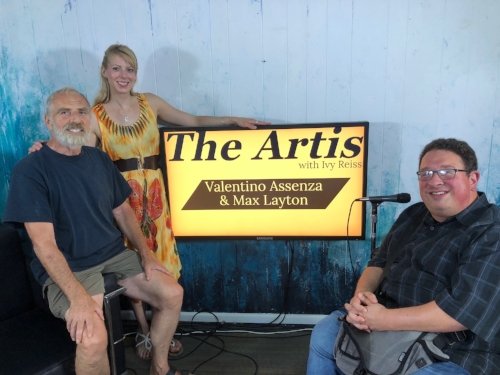 The Artis with Ivy Reiss Show
Ivy Reiss interviews Legendary Canadian Singer, & Songwriter Max Layton (left), and Poet and Host of 89.5 CIUT FM's Howl Radio, Valentino Assenza on August 17, 2018 at ThatChannel studios.
Photo: Alex Krawtschenko
Upcoming: The Artis 4 ORIGINS OF ART issue
Preview past issues of The Artis in the Archives tab up above. See Artis 3 here
The Artis 4 will be off the press July 17th 2019.
Ivy Reiss with ThatChannel Studio's Hugh Reilly on the origins of The Artis